For anybody who likes sun, fun, sea and adventure!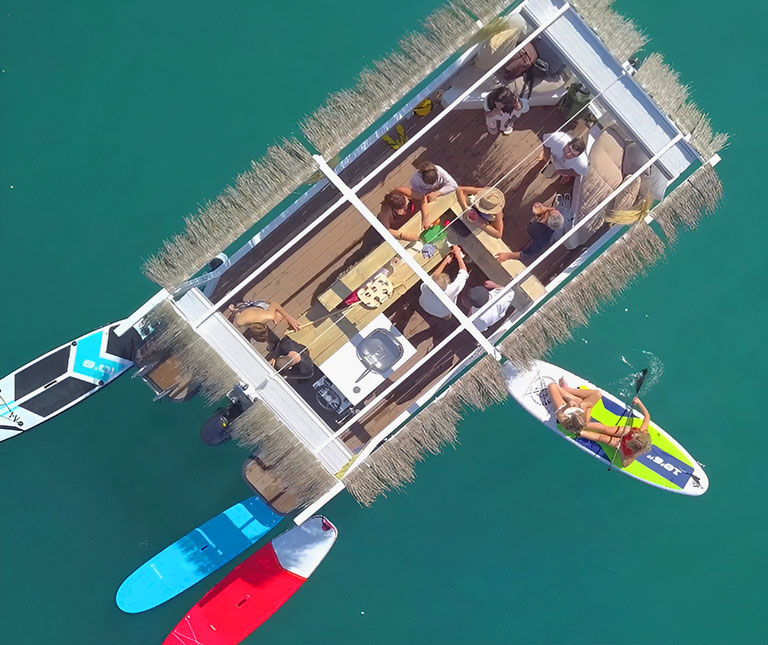 BarcoBar Marbella is the first and only floating sea bar on the Costa del Sol. Ideal for people who like to go on a fun adventure with friends or family. You will see us from the beaches of Marbella, just outside the yellow buoys. The location will depend on the day and the weather but we are mainly floating between Puerto Banus and Poste de Cable.
To visit the BarcoBar you'll need a means of transportation; like a jet-ski, boat, paddle board or anything else that floats because swimming will be too far. For the ones who made it, a freshly made cocktail, or another cooling drink will be awaiting for you. Just dock your 'floaty' onto the bar island and hop aboard. If it's busy we might ask you to latch onto the boat, but stay on your float for a little while longer….we'll still be serving you drinks! Soon there will be a space for you at the bar too! Contact us in case you don't have transport. We know where to hire a surf board, kayak or jet-ski closeby or we can organise a sea-taxi service for you.
BarcoBar is like a little oasis in the middle of the water, a place where you can escape from the world and enjoy a drink.
Get in touch with us to book your time slot.